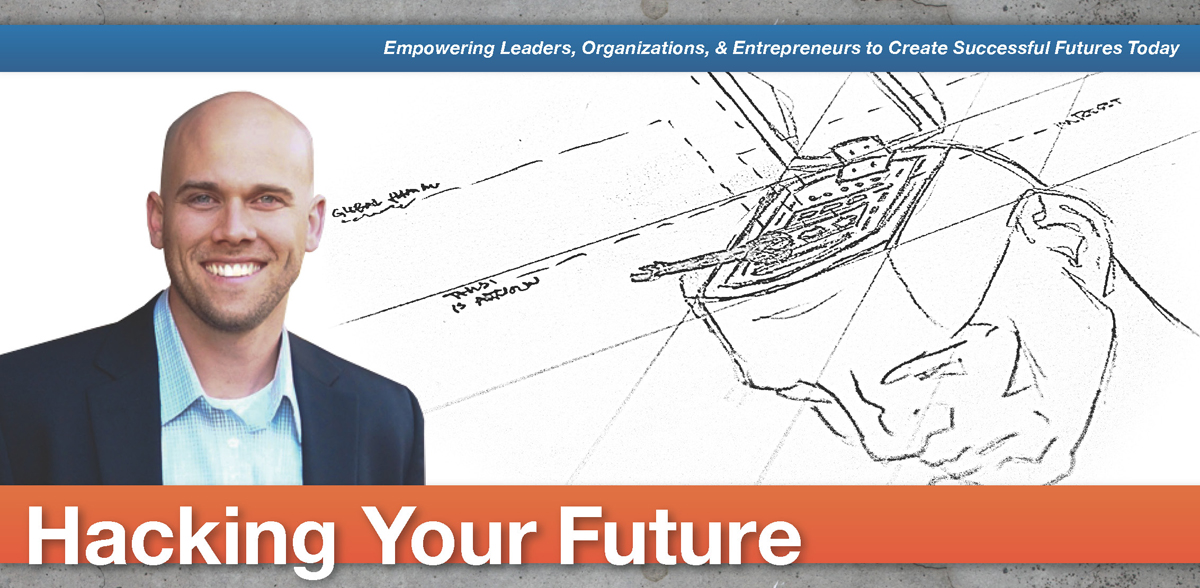 Hacking Your Future is a free weekly memo that provides readers with practical and applicable tips for uncovering their future success. Readers are challenged to re-imagine their personal and professional narratives, goals, and objectives, and re-invent their lives and work in a manner consistent with their new vision of the future.
This week's focal point: On Monday, February 3rd 2014, my wife Leanne, gave birth to our second son, Asa Merrick Nichols, all natural, just as she wanted. This was her desire with both of our children. When she gave birth to our first son she labored for 40 hours total, eventually needing an epidural in order to rest and have enough energy to push. As you can imagine, this was not the birth experience for which she planned. On paper at least, we did everything we were "supposed" to in preparation for a natural childbirth. We took a natural childbirth class, read books, watched videos, and constructed a detailed birth plan for natural childbirth, which she shared with her physicians. But even with such great preparation there are elements that one cannot prepare for unless they have experienced it for themselves or have someone alongside them who has.
With the birth of our son Asa, our experience was completely different. Leanne labored for just over 10 hours and the majority of that was done in our home. Both she and I agreed that this experience could not have been possible without the help of her doula, Samantha Wright. Samantha's expertise enabled my wife to reach the desired outcome in a fraction of the time it took with our first son, while helping her to stay calm amidst such an intense experience. She was able to achieve the results she desired because she surrounded herself with women, including her midwife, who were experienced in natural childbirth. In particular, her doula knew when and how to use the tools necessary to help her stay present and confidently and quickly progress in her labor.
There will be times in our lives where we set extraordinary goals for ourselves both in business and in personal endeavors. Although we have more tools and resources at our disposal for "doing it ourselves," the fact remains that our chances for achieving our desired outcomes requires the assistance and guidance of those who are more experienced than ourselves. Coaches and mentors can push us beyond the limitations of what we think is possible and help us arrive at our destination much faster than we could have on our own.
I experienced this in my own career, when I hired my web strategist and business mentor, Chad Barr.I already had a website that I had proudly built myself, but I didn't have the expertise to create a solid web strategy that positioned my business for dramatic growth and increased market reach. I'm a big fan of the "do it yourself (DIY)" culture as it gives us the tools to take a more active and creative role in our day to day activities. But when it comes to achieving extraordinary goals, the DIY craze has led many to believe that if they have the same tools then they can achieve the same extraordinary results as a seasoned professional. This is simply not the case. DIY provides us with all the information, but little of the wisdom needed to succeed.
The Fulcrum: If we're serious about achieving extraordinary results, both personally and professionally, then it's important that we seek out experts and professionals who can help us get there faster, pushing us beyond our own limitations. I can't imagine where my business would be today if I didn't have experts like Chad Barr and Phil Symchych pushing me to go beyond what I think is possible.
You may subscribe and encourage others to subscribe by clicking here.
Privacy statement: Your email address is never shared with anyone for any reason.
Check out my podcast series called The Futurist on iTunes.
If you'd like to reach me by email: [email protected]
or call my direct line: 828-367-0290
https://thenewfuturist.com
© J.P Nichols & Associates Inc. 2013. All Rights Reserved.