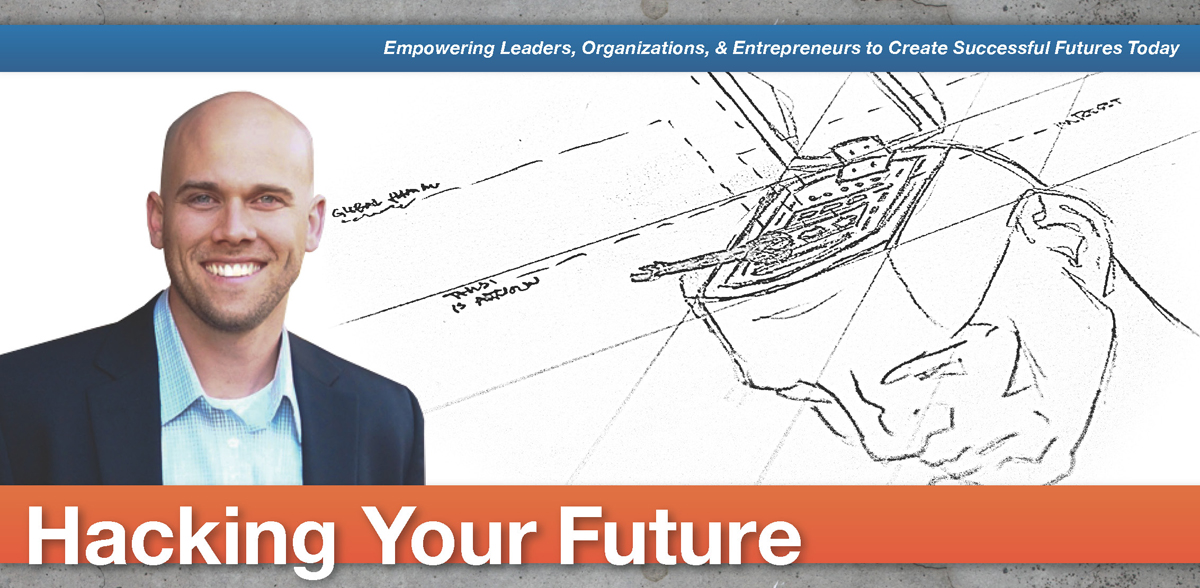 Hacking Your Future is a free weekly memo that provides readers with practical and applicable tips for uncovering their future success. Readers are challenged to re-imagine their personal and professional narratives, goals, and objectives, and re-invent their lives and work in a manner consistent with their new vision of the future.
This week's focal point: At some point in our personal and professional lives we will be faced with a decision to continue down the same path or to veer off course and chart a new direction. For some this comes as a welcome opportunity, while others view it as an unavoidable obstacle. In either situation, the means to achieving long-term success and life fulfillment is a clearly articulated vision for the future, both for you and for those on whom your life's work will have the greatest impact.
When a prospective client tells me they want to undertake a specific endeavor, implement a new system, or invest in new technology, my first question is, "Why?" You'd be amazed at how often this question is met with a long silence or inarticulate responses. This is symptomatic of two things:
A lack of clarity on the ultimate end goal and desired outcome.

An approach that starts building the proverbial house before laying the foundation.
I know, because I've been in the same position when asked this question by my advisors and mentors.
I've recently begun working with some of the most creative and talented individuals in Hollywood. Our focus has been on expanding their market reach and creating a diversified revenue stream that propels their vision and mission forward. So how are we doing this? We start by looking at the process in three phases, each with a purpose and objective that allows us to maximize our efforts and build on the momentum from one phase to the next.
Phase 1 – The Heart Objective is the uncovering of your true purpose and desire, i.e. what you ultimately aspire to be, to contribute, and to leave behind when you're gone.
Phase 2 – The Head Objective is the articulation of your heart objective to specific audience groups and identifying the most effective and efficient means by which to do this.
Phase 3 – The Hand Objective is the implementing of a strategy that ensures you're taking key steps and actions on a daily, weekly, and monthly basis toward enabling the Heart Objective to become a reality.
All too often we as individuals and organizations start with phase 3, without working out phase 1 and 2. If we start with the tactical day-to-day implementation without being able to clearly articulate our greater vision and purpose, we get mired in the details and become void of excitement and ultimate fulfillment.
Whether you are the CEO of a Fortune 500 company, an entrepreneur launching their first or fiftieth business, a retired executive, or someone going through a life transition, each of us are and will continually be faced with the question of, "Why?" Why are we doing what we do? What is our ultimate end goal in this life? What do we truly aspire to be? And, more importantly, to whom do we aspire to be this?
The Fulcrum: Before you make your next big decision regarding your personal or professional life, ask yourself the easiest and toughest question of all, "Why?" How will this decision help to make your "heart objective," your ultimate end goal, a manifest reality?
You may subscribe and encourage others to subscribe by clicking here.
 Privacy statement: Your email address is never shared with anyone for any reason.
Check out my podcast series called The Futurist on iTunes.
If you'd like to reach me by email: [email protected]
or call my direct line: 828-367-0290
© J.P Nichols & Associates Inc. 2013. All Rights Reserved.