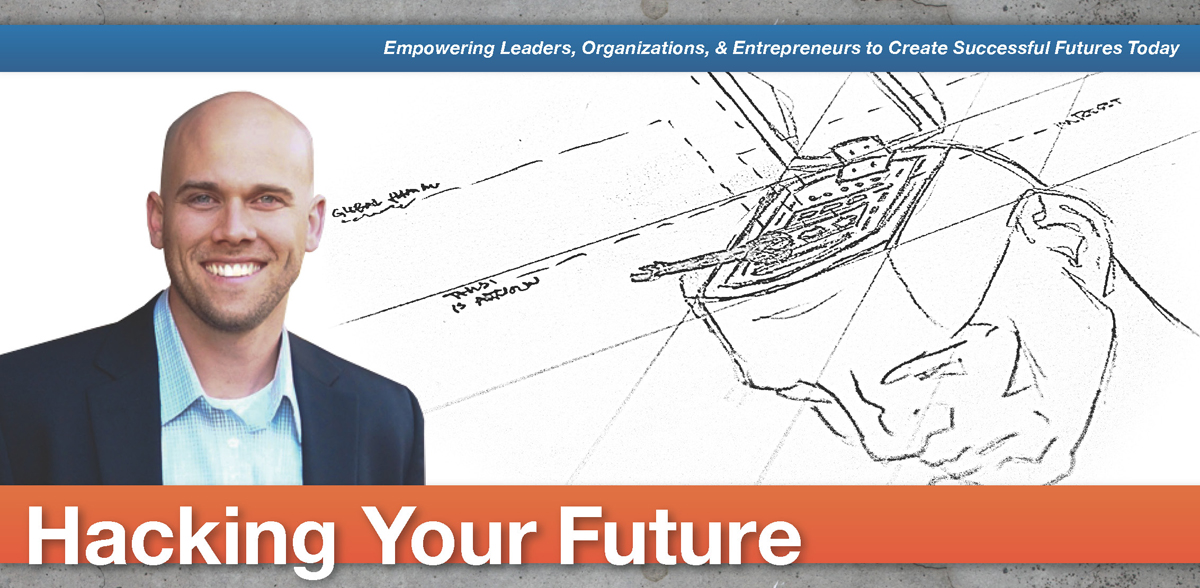 Hacking Your Future is a free weekly memo that provides readers with practical and applicable tips for uncovering their future success. Readers are challenged to re-imagine their personal and professional narratives, goals, and objectives, and re-invent their lives and work in a manner consistent with their new vision of the future.
This week's focal point: On my last flight out to Los Angeles I sat next to a woman who was on her way to meet with a few prominent literary agents (who by the way had no idea she was coming) to pitch a novel she had just finished writing. She also shared that she was in the process of reinventing herself and her work. As we continued our conversation she began to share with me the general concept of her book (a crime novel peering into the psyche of an FBI agent), what she hopes to accomplish, and how she plans on doing it. I can't say that I found her plan of action for getting in front of these agents all that strategic, but I do admire her willingness to take a chance.
Other than the obvious hurdle of getting quality face time with these agents the biggest issue for her was convincing these agents that she had the expertise and credibility to author this book. Nearing the end of our five hour flight I asked her what previous line of work she was in. She leaned in and said very quietly so as not to be heard by anyone else, "I spent 22 years as a homicide detective with the LAPD." You can imagine my surprise as it was clear she had the credibility for tackling this subject matter. It hadn't occurred to her that her 22 years of experience could increase her credibility and marketability as a crime author and greatly increase her chances of landing a book deal. In her attempts to reinvent herself she missed the value and expertise her previous experience lent to the success of her new direction.
When reinventing ourselves, the idea that we need to make a clean break from or completely reject our previous line of work makes the process of reinvention extremely difficult. We have to build on our previous experiences and find the ways in which those things make us distinct, regardless of the industry or sector in which we gained those skills.
I for one have a unique perspective and understanding of organizational dynamics across several different industries that allows me to quickly assess a client's condition and offer solutions that dramatically improve their condition. A major component of this came as a result of my 10+ years experience as an employee benefits broker. Not only did I become a broker of valuable resources and relationships, I became a master networker, a trainer of entrepreneurs (during my years as a manager), and a skilled problem solver on both a corporate and individual level. These are the kinds of transferable skills and expertise that connect one phase of your career to the next, increasing your credibility, and enabling you to provide exceptional value to your clients.
Tip of the week: As you consider the next stage of your career, take inventory of the transferable skills you've acquired in your previous line of work. You may be surprised by what you find and even more surprised by the new opportunities for which you're qualified.
You may subscribe and encourage others to subscribe by 
clicking here
.
Privacy statement: Your email address is never shared with anyone for any reason.
Check out my podcast series called The Futurist on iTunes.
If you'd like to reach me by email: [email protected]
or call my direct line: 828-367-0290
© J.P Nichols & Associates Inc. 2013. All Rights Reserved.